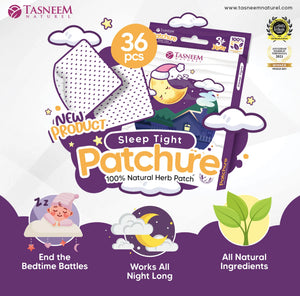 Tasneem Naturel Sleep Tight Patch

Our Sleep Tight Patch is infused with a blend of all-natural ingredients to help you get a good night's sleep. Say goodbye to sleepless nights and hello to a better night's sleep with Tasneem Naturel Sleep Patch.

Ingredients
Amber, Angelica Dahurica, Thinleaf Milkwort Willd Polygala, Spine Date Seed, Raw Dragon Tooth, Caulis Polygoni Multiflori, Silktree Albizzia Bark, and Lotus Plumule.

How To Use
Simply apply the patch to a clean, dry area of skin before bedtime, and remove it in the morning. The patch is gentle on the skin and is suitable for all skin types.
It is easy to use and can be worn on the skin for up to 8 hours.